This post is sponsored by Nielsen-Massey Vanillas and includes tracking links. For more information about tracking links and how to opt-out, please visit All About Do Not Track prior to clicking any links found in this post. This post also contains affiliate links (when you make a purchase, we make a small commission).
Did you know that more people bake during the holidays than at any other time?
Nielsen-Massey Vanillas conducted a survey with 1,000 Americans and found that 87% of Millennials and Gen-Xers are most likely to bake during the holidays with more than half of Millennials surveyed saying they are motivated to bake as a way to spend time with loved ones.
This information led them to their first-ever #BaketoShare campaign, which is meant to help increase connections between family and friends this holiday season through the act of baking.
That means there's no better time than the holiday season to give baking gifts!
We put together this unique, curated list of gifts that any baker would love to receive. There's something for every budget level and baking skill.
Whether you are looking for a Christmas gift that the baker in your life they can use year-round, or something you can use together in the kitchen to #BakeToShare, we've got you covered!
P.S. – Don't forget to follow Nielsen-Massey on social media for recipe inspiration: website, Facebook, Instagram, Pinterest and Twitter!
Christmas Gift Ideas For Bakers
To help bakers create the most scrumptious holiday treats, Nielsen-Massey has introduced a Holiday Flavors Bundle on Amazon, featuring some of the season's most popular flavors: Madagascar Bourbon Pure Vanilla Extract, Pure Almond Extract and Pure Peppermint Extract.
We love their Madagascar Bourbon Pure Vanilla Extract because it is made from premium, hand-selected and sustainably sourced Madagascar vanilla beans. Nielsen-Massey uses a proprietary slow, cold extraction process to gently draw out and preserve more than 300 delicate flavors to give you the richest tasting vanilla.
The Holiday Flavors Bundle is the perfect gift for your favorite home baker or to use in your own kitchen cabinet year-round.
Start your holiday shopping early! Nielsen-Massey Vanillas is offering an exclusive deal on Amazon for Black Friday and Cyber Monday. Starting on November 29th, you can get 30% off their 4 oz. Holiday Flavors Bundle. This offer is available for a limited time! (limit one per person).
Buy Nielsen-Massey Vanillas Holiday Bundle
2. Handmade Reclaimed Serving Board & Cloche
Every baker needs somewhere to show off their beautiful creations! This handmade serving board & cloche would make a stunning display case in any kitchen.
The serving board has been expertly carved from the wood of old Hungarian buildings. The glass cloche with a hammered metal handle compliments it perfectly.
Buy Reclaimed Serving Board & Cloche
3. "Bake The World" A Better Place T-Shirt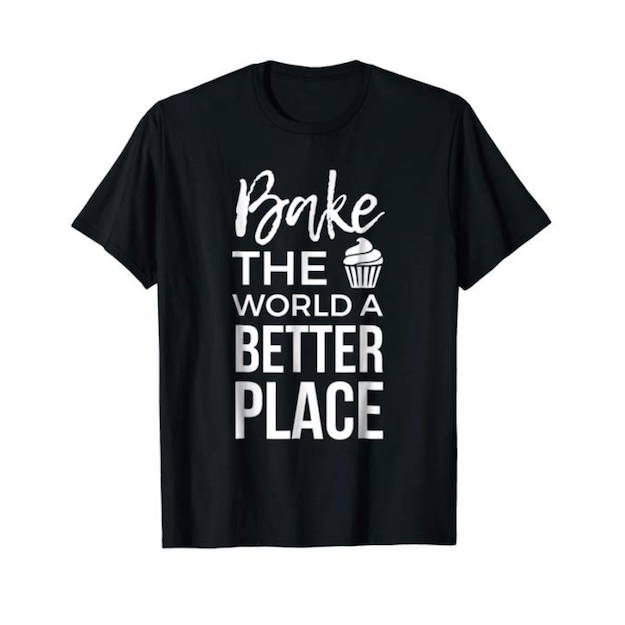 Who doesn't love a good hobby-specific t-shirt with a pun? Every baker knows that baking is practically therapy and if we all did it just a little more the world would be a better place.
Get the baker in your life this tee shirt so that they can help spread the joy of baking and change the world for the better, one pastry at a time. It's the perfect shirt to wear while baking holiday gifts to share!
Buy "Bake The World A Better Place" T-Shirt
4. The Bread Bible Cookbook
There's a reason they call it the "Bread Bible". Any aspiring baker looking to get into bread making absolutely must read this book as it is T-H-E manual for it.
Every baker would benefit greatly by reading this cookbook and using it as a reference as they begin their bread making journey.
Buy "The Bread Bible" Cookbook
5. Black Truffle Honeycomb
Unique, next level ingredients are always at the top of our list when shopping for baker friends. This Black Truffle Honeycomb is the perfect candidate if you're looking for something like that!
The honey is harvested from bees in Georgia, while the black truffles are dug up from rich soil in Tennessee. It's delicious drizzled on pizzas, cheeses, and we're even thinking about infusing it into an ice cream flavor…
6. Dominique Ansel Masterclass
Used to, you'd have to travel to Europe to learn from the best pastry chefs in the world. Now, you can do it from the comfort of your own home!
Dominique Ansel is one of the most innovative pastry chefs of our time and his french pastry fundamentals class would be an excellent gift choice for any intermediate baker looking to take their skills to the next level.
Buy Dominique Ansel Masterclass Gift
7. KitchenAid
If the baker in your life doesn't own a KitchenAid yet, trust me, they want one. Ours was given to us as a Christmas gift and I still think of the giver fondly every time I use it (thanks, Mom!).
If you're not familiar, KitchenAid mixers are a classic baking staple (they've been manufacturing them since the 1920s!) and are known for their reliability and longevity. They come in many different colors (and even patterns), so you can be sure it's a gift that's personalized to your baker friend's tastes!
8. Hedley & Bennett Apron
Hedley & Bennett makes aprons that are beloved by professional and novice chefs around the world. They are also a favorite of the Bon Appétit staff, so you know they're good!
I treated myself to one this year and am blown away by the quality. I love how many style options there are! There is truly one to suit every baker.
9. Edible Gold
There's no easier way to make a dessert fancy schmancy than by adding edible gold! Most home bakers would probably not indulge and buy this indulgent ingredient themselves, which makes it a great gift idea.
We tend to use a lot of edible gold around NYE, so finding this under the Christmas tree or in a stocking would be perfect!
10. Airbrush Cake Decorating Kit
Help they baker in your life take their cake decorating skills to the next level with this airbrushing kit.
With a cake airbrushing kit, you can blast edible colors and patterns on cakes covered in icing or fondant. This allows you to easily create beautiful themed cakes in minutes!
11. Culinary Torch
A culinary torch can add a lot to baked creations without breaking the bank. If you're looking for a small gift or stocking stuffer for a baker that costs less than $20, this could be it!
Other than the obvious creme brûlée, you can also make a glazed ham, s'mores, broiled grapefruit, seared tomato skins, and melted cheese.
12. All About Cake Cookbook
Christina Tosi is a modern legend in the dessert world and we've already gifted her "All About Cake" cookbook to several friends & family members. It is always well-received and I love seeing the recipes they make!
Anyone into baking fun and interesting cakes that are anything but standard will really enjoy this book!
13. Bon Appétit Subscription
Bon Appétit has been cherished by high-end chefs and home cooks for many decades now. Their team currently kills it on YouTube and the magazine is better than ever.
You can gift the baker in your life a 1-year subscription for less than $20, and yes, that includes a stylish tote!
14. Russian Piping Tip Set
Russian piping tips open up a whole new world of cake and cupcake decoration. You can use these icing tips like you would any other, but the range of patterns make them a baker's dream.
This variety pack of Russian piping tips has enough designs to keep any baker busy all year long.
15. Droppin' A New Recipe Oven Mitt
Use this cheeky oven mitt to let friends and family know that something new is coming out of the kitchen and they should starting getting excited!
We received one as a gift years ago and still proudly display it in on our oven.
Buy "Droppin' A New Recipe" Oven Mitt
16. 3-Tiered Cooling Rack
Any serious home baker knows the struggle is real when it comes to having enough cooling racks and also having enough counter space for them. This three-tiered cooling rack solves both of those problems!
You'll really be making holiday season easy by gifting this to an avid baker.
17. Marble Board
Baker's are constantly working with dough and that means a marble board is a "must-have" – and the bigger the better.
If you know a baker who hasn't been able to invest in one themselves yet, this could make a great gift!
18. Sourdough Starter & Crock Set
Most people's bread making journey begins with Sourdough, so if you know a baker looking to head down that road, this could be an exciting gift for them to receive.
This set comes with everything you need – the sourdough starter and the crock to store it in. Feed it with flour and water and it'll be the gift that keeps on giving, for years and years!
Buy Sourdough Starter & Crock Set
19. Custom Baking Shoes
What baker wouldn't want to rock these custom baking kicks? If you wear your heart on your sleeve, surely you should wear your hobbies on your feet!
Help the person in your life passionate about baking show it off everywhere they go with these adorable shoes.
20. Whisk Necklace
Know a baker who's a "whisk taker"? Then they'll love this cute whisk pendant necklace!
The minimalist design means it will fit right in with almost any style, and because it's made of stainless steel, it will last for years to come.