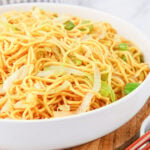 Ingredients
12 oz chow mein noodles
2 garlic cloves, minced
1 teaspoon grated fresh ginger
3 tablespoons low sodium soy sauce
1 tablespoon brown sugar
½ teaspoon ground black pepper
3 tablespoons canola or olive oil
2 cups cabbage, thinly sliced
1 medium yellow onion, thinly sliced
3 celery stalks, thinly sliced
2 green onions, sliced
Instructions
Cook chow mein noodles according to package, drain and set aside.
Whisk together the soy sauce, brown sugar, garlic, ginger, and black pepper in a small bowl and set aside.
Heat oil in a large skillet and saute the onions and celery until softened.
Add the sliced cabbage and cook for 3-4 minutes until wilted.
Place the cooked noodles and sauce into the pan and toss to evenly coat. Remove from heat.
Garnish with the sliced green onions and serve immediately, enjoy!