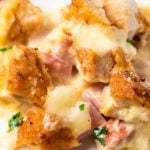 Ingredients
1 lb Frozen Breaded Chicken
8 oz Cubed Ham
8 oz Cubed Swiss cheese
1 10.5oz Can Cream of Chicken Soup
⅛ cup Sour Cream
½ cup Whole milk
½ tsp Pepper
⅛ cup Bread Crumbs
Instructions
Preheat oven to 350°F. 
Cut chicken, ham, and Swiss cheese into ½" cubes. 
Spray a casserole dish with non-stick spray. Add ham and cheese to the dish.
In a small bowl, whisk to combine soup, sour cream, milk, and pepper. Pour on top of ham and cheese
Top with breaded chicken and evenly sprinkle bread crumbs. Cover with foil and place in the oven for 20 minutes. Remove foil and bake for 10 more minutes.
Remove from heat. Let cool for 5 minutes, then serve and enjoy!