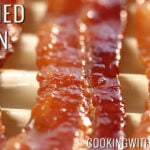 Ingredients
5 Strips of bacon
3 teaspoons of light brown sugar
Instructions
Preheat your oven to 400ºF
Lay each slice of bacon on a baking sheet that is lined with either a silicone mat or aluminum foil.
Sprinkles the 3 teaspoons of sugar over the bacon, ensuring that each piece is equally covered.
After your oven is preheated, bake for 12-16 minutes. Halfway through baking, flip each strip over while dragging it through the syrupy liquid on the baking sheet.
Remove the bacon from the oven then place the strips on a wire rack to cool.