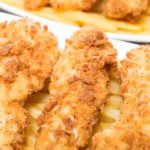 Ingredients
1lb Chicken Tenders
Buttermilk
1 1/2 Cups Flour
1 tsp Salt
1/2 tsp Black Pepper
1/2 tsp Garlic Powder
1/4 tsp Onion Powder
1/8-1/4 tsp Cayenne 
Oil, for frying
Instructions
Place chicken strips in a medium bowl and pour buttermilk over the top until they are submerged. Place in fridge and allow to soak for at least 30 minutes.
Take another bowl and add the flour and seasonings. Stir with a fork to combine. Now drizzle about 1/4 cup of buttermilk into the flour, stirring lightly with your fork as you add it. (This will create the small clumps of batter that make the chicken tenders extra crispy!)
Heat your deep fryer to 375 F or add 1″ of oil to a cast iron skillet and heat oil to temperature over medium heat.
Once the chicken tenders are done soaking, remove them from the buttermilk mixture and dredge in the flour. Turn them over to thoroughly coat each side.
When oil has come to temperature, add the chicken tenders, frying in batches if necessary. Cook them on each side for about 2 minutes, until golden brown and crispy.
Remove them from the oil and place on a cooling rack over a baking sheet or paper-lined plate.
Serve immediately with your favorite dipping sauce and french fries.