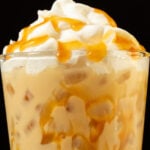 Ingredients
1 Tablespoon caramel sauce
1 Tablespoon toffee nut syrup
1/2 Tablespoon vanilla bean syrup
3/4 cup milk
2 shots (2oz) of espresso, or strongly brewed coffee
1/2 cup ice
Instructions
Drizzle the caramel around the inside of a pint glass.
Add the toffee nut, vanilla syrup, milk, and espresso to the glass. Stir to combine.
Add the ice.
Top with whipped cream or sweet cold foam, if desired.
Notes
To make this latte hot, steam the milk then add to a mug with the caramel, syrups, and espresso.