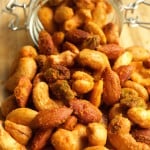 Ingredients
2 cups mixed unsalted, raw nuts (I used peanuts, cashews, almonds, and pistachios)
2 tbsp melted butter
2 tbsp Frank's Hot Sauce
2 tsp cayenne powder
1/4 tsp onion powder
1/4 tsp garlic powder
1/2 tsp salt
Instructions
Preheat oven to 350F and line a baking sheet with a baking mat.
Mix all ingredients together in a medium bowl. Spread in a single layer on prepared baking sheet and bake 8 to 12 minutes, stirring occasionally.
Let cool on pan. After cool, store in air-tight containers or serve.